Indoor Park
​Ages 18 months-5

​Indoor Park: - 2 hours - Indoor park is an open gymnastics play period for pre-school aged children 18 months to 5 years old. Gymnastics equipment is available for parents to play with their child. This is a great way to introduce your child to the gym environment and a great place to let your little one burn off some energy!
---
Parent Tot - Ages 18 months-3
Parent Tot Classes: - 40 minutes - This class is for children 18 months to 3 years old. Parents participate by leading their child through gymnastics stations and obstacle courses, under the supervision of a preschool gymnastics instructor. Music and items such as balls, ribbons, and scarves are used to facilitate instruction. The emphasis of this class is on socialization and building coordination.
---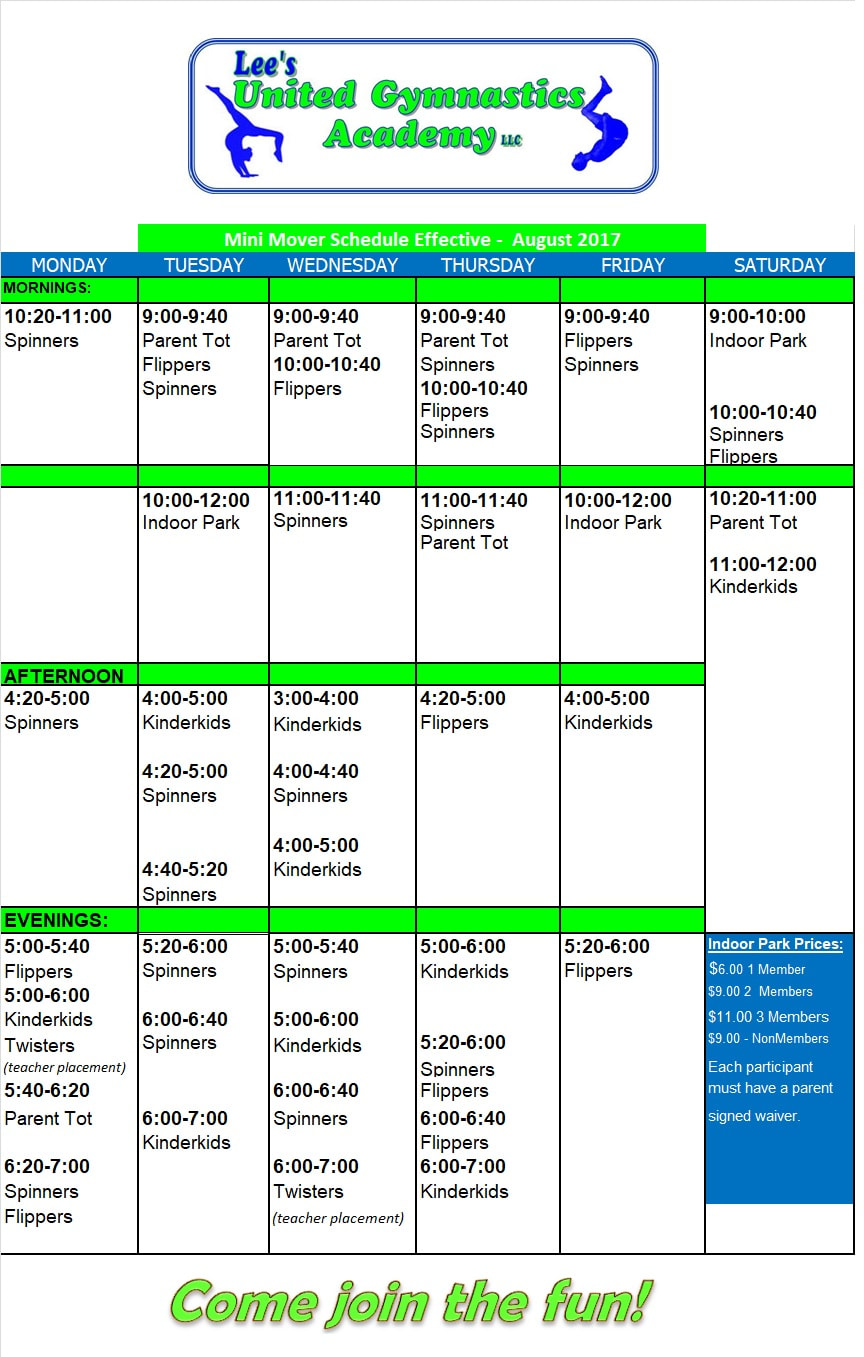 ---
​Flippers- 3 years of age

​

Flippers Classes: - 40 minutes - The Flippers class is exclusively for boys and girls 3 years of age. Basic gymnastics skills such as forward rolls, backward rolls and cartwheels are taught in this class. Obstacle courses and stations are designed to help students develop coordination, balance and strength. Students must be able to follow the class. If your 3 year old is having a hard time following the class the instructor may recommend your child be placed in our Parent Tot class.

​Spinners- ages 4-5

​Spinners Classes: - 40 minutes - The Spinners class is for boys and girls ages 4-5. Students learn basic gymnastics skills such as handstands, cartwheels, rolls, jumps and balancing. Activities in this class are designed to develop coordination, balance and strength.

​Kinderkids- ages 4-5

​

Kinderkids: - 60 minutes - As the name implies, Kinderkids is for boys and girls who are in Kindergarten! This beginning class is designed to teach kids the basic gymnastic body positions and prepare children for level 1 skills. Development of strength and flexibility are also important components in this class.

​Twisters- ages 4-6

​Twisters: - 60 minutes - Is a teacher placement class for boys and girls ages 4-6 years. This class is for the students who have strength, talent and exceptional listening skills. This class is also for students who show potential for boys or girls preteam.
---
---
---
​Parents interested in enrolling their children in our program can print and fill out the forms below. Please bring the 2 completed copies to our front office to choose a class for you child.
| | |
| --- | --- |
| enrollment form | release form |